The wave speed can now be found by using a stop watch to time how long it takes the wave to travel along the cable, reflect and come back (we usually measured 10 to 20 complete cycles).
The wave speed is equal to total distance travlled / time taken.
The tension is approximately equal to (mass of bucket + mass of water + mass of rope supporting bucket) x acceleration due to gravity g.
The change in wave speed with change in tension can now be easily investigated.
To make a more quantitative version of this experiment, the rope was passed across a simple pulley rather than across the rung of the ladder. (The rungs of the ladder we used exerted a frictional force on the rope, and so the tension in the rope did not necessarily reflect the tension in the rope supporting the bucket.). The rope was also clamped at the pully after each change in tension so the wave was reflected exactly at the location of the pulley.
The figure below presents a graph of the results with the measured wave speed plotted against the square root of the tension. The dashed line shows the theoretical relationship v = √(T/μ).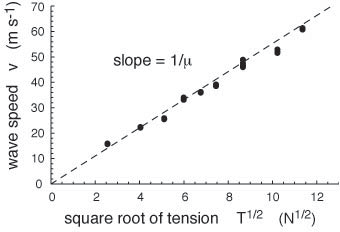 Fig. 1. A plot of measured wave speed v against the square root of tension √T.
There are a number of reasons why the simple theory does not agree exactly with this experiment. Firstly we have not corrected for the extra distance produced by the sagging of the rope at low tensions. We have also not corrected for variation in tension along the rope as it sags. The rope will also have a finite resistance to bending.
If you have a really long rope you can perform this experiment in a long corridor, or even outside. The longer time taken for each wave to reflect and return should allow more accurate measurements of the wave speed. However increased sagging of the rope might make the simple theory less appropriate. See the clip below.
>Here, the tension was supplied by 1 kg masses: 2 kg at left gives 20 N, 8 kg at right gives 80 N. They were chosen so that it would be obvious in the film clip that the tension had been increased by a factor of four (neglecting the weight of the vertical section of rope). For ease in producing a range of different weights, the bucket and water method shown above would be very suitable.