The structure of a non-reflective coating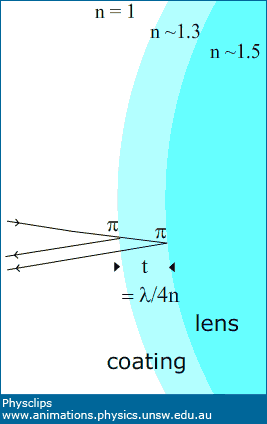 A schematic of a non-reflective coating
The refractive index of the non-reflective coating lies between those of the lens and the air: nair < ncoating < nglass, as suggested in the sketch. Part of the energy in the ray arriving from air towards the coating (small n to large n) is reflected with a phase change of π. (See Reflections and phases for an introduction.) The rest is transmitted and arrives at the interface with the glass. Again there is partial reflection, with the reflected ray (again, small n to large n) having also a phase change of π. So, comparing the two reflected rays, there is no component of the phase difference due to reflection: these effects cancel out. Let's consider a wavelength λ in air and so a wavelength λglass in the glass. Now suppose that thickness of the layer is t = λglass/4 = λ/4n. So the second reflected ray has travelled λglass/2 further, so that the phase difference, entirely due to the path difference, is π.
So, for this wavelength, we have destructive interference: very little power is reflected from the coating, and most is transmitted into the lens: more light is available for the optical instrument, whatever it is, and less is wasted in reflection. For optical instruments, one would usually choose λ to be in the middle of the visible spectrum (green light at around 550 nm). So, on the axis and with normal incidence, there is maximum destructive interference for green, but still considerable destructive interference for the rest of the visible spectrum.
We've discussed only the on-axis rays (and neglected the angle of incidence in the schematic above). When the angle of refraction in the coating is θ, the pathlength difference is λ/(2n cos θ): longer by a factor of 1/cos θ. So the destructive interference is more complete for longer wavelengths – towards the red end of the spectrum – and the destructive interference is less complete for blue and violet. This explains why the lens in the photo above appears to havea blue-violet tinge – which provides a simple way of recognising such coatings.